Li Chan Wo Sifu was born in Hong Kong in 1939. He is the direct lineal disciple of Grandmaster Mok kwai Lan, and the 2nd generation sucessor of Wong Fei Hung's kung fu. As Mok Kwan Lan was both his SiMo and sworn mother, he followed Mok Kwai Lan to practise Hung Gar Kung Fu since he was seven years old. Mok Kwai Lan was such a great mentor that she trained Li Chan Wo in a very strict way. From sitting stance, punching and kicking, weapon skills and lion dance, Li kept improving himself by non-stop training. Eventually he acquired the unique skill which was created by Mok - "Lion spit the ball". He started to assist Mok Kwai Lan in teaching students at 20 years old. In 1974, he officially became a coach and teacher in an adult recreation center, and established "Po Chi Lam Li Chan Wo Sports Association in 1980.

Mok Kwai Lan passed away in 1982. Before she departed from this life, she handed over the important duty of promoting Chinese Kung Fu and skill of Lion Dance to Li Chan Wo. And Li followed the will of his mentor, devoting himself to teaching Wong Fei Hung's Kung Fu. He is very concerned about the virtune of his students, especially focussing on bringing up his students morally. He is following in the footsteps of his mentor to promote Chinese Kung Fu and skill of Lion Dance.

Master Li Chan Wo is also a registered Chinese medicine practitioner, if you would like to ask for consultation for bone setting, please kindly make an appointment in advance.

【Photo Gallery of Li Chan Wo Sifu】

Li Chan Wo Sifu and Mr Wong Yuen Tak(grandson of Wong Fei Hung)。(2009-08-22)


Shek Kin and Shih Chung Tin visited Mok Kwai Lan SiTai. Li Chan Wo Sifu was at the right.


Photo of Li Chan Wo Sifu and his wife with his indoor disciple. (2009-08-22)


Plaque of Li Chan Wo Sports Association


The calligraphy gave from Wong Lun Tak, Wong Tin Tak, Wong Yuen Tak to Li Chan Wo Sifu as gift.


Kwan Tak Hing Sifu and Li Chan Wo Sifu


Mok Kwai Lan SiTai and her students. Li Chan Wo was at fourth from right in the back row


Artist Eric Kwok (middle) visit Wong Fei Hung Sport Association. Li Chan Wo Sifu (right), and his student, So Chi Kong SiFu (left)(2007-08-27)

【Media Coverage】

Hong Kong Daily News(1980-05-17)


SingPao(2011-08-11)


EastWeek(2004-10-27)reported the life stories of Li Chan Wo Sifu and his sworned mother Mok Kwai Lan


Apple Daily


(2007年)the reporting about 160 anniversary of Wong Fei Hung Birthday at Xiqiaoshan

【Achievement】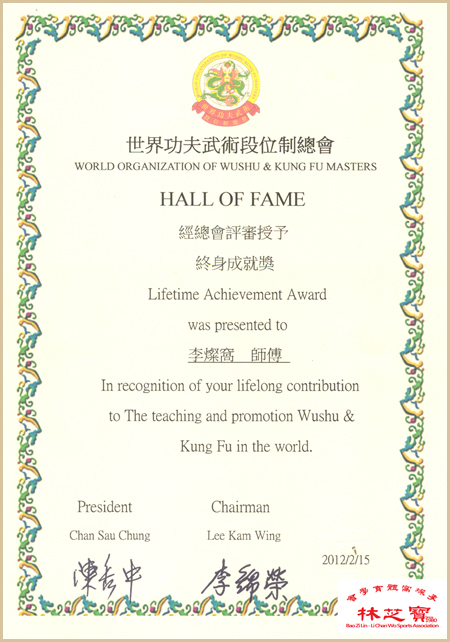 Li Chan Wo Sifu achieve the Life Achievement Award in 6th World Convention from World Organisation of WuShu Kung Fu Masters


【Social Service】

certificate of appreciation from Lions Clubs



Taoism culture seminar by Fung Ying Seen Koon(2011-06-05)